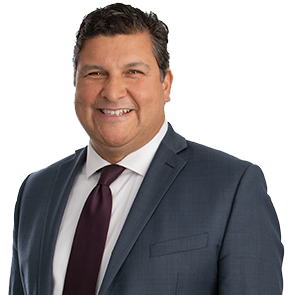 Cerebrovascular Neurosurgeon
Skull-Base Neurosurgeon
Director of Cranial and Neurovascular Surgery – Trinity Health Saint Mary's 2011-present
Surgical Director, Cerebrovascular Program – University of Michigan Health – West 2018-present
Chief of Neurosurgery – Trinity Health Saint Mary's 2020-present
Board Certified in Neurosurgery – ABNS
Special Interests
Dr. Figueroa is a Boston-trained cerebrovascular and skull-base neurosurgeon. He specializes in aneurysms of the brain, arteriovenous malformations, cavernous malformations and carotid artery disease as well as brain tumors of the skull-base whose treatment may involve endoscopic and/or transcranial surgery, acoustic neuromas, pituitary gland tumors, meningiomas and gliomas.
Brain Aneurysms and Vascular Malformations
Intraoperative Magnetic Resonance Imaging
Endoscopic Nasal Neurosurgery
Awake Cranial Neurosurgery
Carotid Artery Disease
Brain and Skull-Base Tumors
Endoscopic and Transcranial Surgeries
Training
Neurosurgery Board Certification | American Board of Neurological Surgeons
Cerebrovascular and Skull-Base Neurosurgery Fellowship | Indianapolis Neurosurgical Group
Neurosurgical Residency | Harvard Medical School, Brigham & Women's Hospital, and Boston Children's Hospital – Dept. of Neurosurgery
Neurosurgical Residency | Medical University of South Carolina – Dept. of Neurosurgery
Surgical Internship | University of Michigan Health System – Section of General Surgery
Doctorate M.D. | University of Michigan Medical School
Undergraduate | University of Michigan
Professional Affiliations
American Association of Neurological Surgeons (AANS)
Congress of Neurological Surgeons (CNS)
North American Skull Base Society (NASBS)
Michigan Association of Neurological Surgeons (MANS)
Michigan State Medical Society (MSMS)
Kent County Medical Society (KCMS)
Healthcare Affiliations
University of Michigan Health – West
Trinity Health Saint Mary's
Corewell Health | Blodgett | Butterworth | Helen DeVos Children's
Grand Valley Surgical Center
Michigan State University | College of Human Medicine | Adjunct Professor
Personal
Dr. Figueroa is the father of four children and is fluent in Spanish, French and Italian languages. He enjoys travel and has performed neurosurgical interventions and education in Dhaka, Bangladesh and Merida, Mexico.
Staff
Brent Benso PA-C
Lori D'Orazio RN
Tricia Moore RN
Angelica Hogan MA/Medical Secretary
Locations
In addition to our Grand Rapids main clinic Dr. Figueroa also offers comprehensive care clinics where select patients are able to be evaluated by neurosurgery and ENT, by neurosurgery and neuro-interventional radiology, or by neurosurgery and neuro-oncology at the same visit.
Grand Rapids Main Clinic and ENT Combo Clinic
3350 Eagle Park Dr NE, Suite 102
Grand Rapids, MI 49525
Fax: 616-454-9004
Local: 616-454-3465
Toll free: 800-832-1815
Grand Rapids Cerebrovascular Clinic
Office is located within the University of Michigan Health – West Professional Building
2122 Health Drive SW, Suite 160
Wyoming, MI 49519
Grand Rapids Neuro-Oncology Clinic
Office is located within The Cancer Center at the Village – University of Michigan Health-West
5950 Metro Way
Grand Rapids, MI 49519